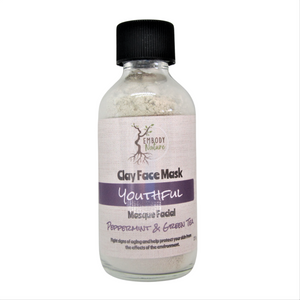 Green tea is a strong antioxidant.  It has an array of health benefits including fighting the sign of aging and helping to reverse the effects the environment has on the skin.  Mixed with peppermint to brighten and refresh, and carrot seed essential oil to help battle the signs of aging.
An extremely gentle mask perfect for sensitive or mature skin.  Packed with potassium and vitamin A to moisturize and soften as well as oatmeal to soothe and relax even the most sensitive skin. leaving you with healthy, beautiful skin. 
Directions for use: In a clean bowl take 1-2 tsp of mask powder and add water slowly until you get desired consistency.  Apply to clean face with clean hands or mask brush in a gentle circular motion.  Allow to dry for 10-15 minutes.  Rinse with warm water and pat dry.  Apply moisturizer.  Discard any remaining hydrated mask. Clay promotes circulation, so some minor redness may occur temporarily after you remove the mask.
Ingredients:
kaolin clay, green tea extract, french green clay, carrot seed essential oil, 
peppermint essential oil
For an even more luxurious face mask you can replace the water with milk, yogurt, aloe vera juice, fruit puree or floral water.