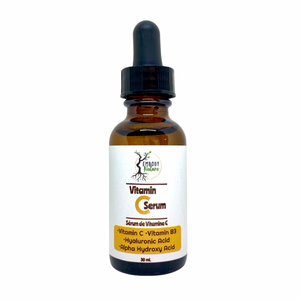 Our 100% natural face serum is jam packed with skin loving ingredients including Vitamin C, Hyaluronic Acid, Alpha-Hydroxy Acid and Vitamin B3!

This serum will boost the production of Collagen and Elastin, 
Reduce the appearance of fine lines, wrinkles and dark circles.
Brighten and tone your skin, by reducing the appearance of sun spots and age spots.

Directions: Apply a small amount 1-2 times daily on a clean face. Do not get in eyes.  Allow to dry completely before applying moisturizer or make-up.
Ingredients: Aqua, Aloe Barbadensis Leaf Juice, Lactobacillus Ferment, Ethyl Ascorbic Acid (Vitamin C), Niacinamide (Vitamin B3), Vaccinium Myrtillus (Bilberry) Extract (and) Saccharum Officinarum (Sugar Cane) Extract (and) Acer Saccharinum (Sugar Maple) Extract (and) Citrus Aurantium Dulcis (Orange) Fruit Extract (and) Citrus Medica Limonum (Lemon) Extract, Sodium Hyaluronate (Hyaluronic Acid), Glycerin, Cucumis Sativus (Cucumber) Extract, Hydroxyethyl Cellulose.
Asorbic Acid (Vitamin C)
Effective and stable skin brightening agent
Balanced skin tone
Photo-aging prevention and reduced dark spots
Increased collagen synthesis
Excellent anti-oxidation properties
Hyaluronic Acid which is naturally found in the body, secures moisture to creates fully, youthful skin. As the skin ages, Hyaluronic Acid decreases. 
Hyaluronic Acid:
has a slight plumping effect to even wrinkles
necessary element for maintaining youthful skin
improves collagen production
brightens skin tone, reducing dullness
Niacinamide (Vitamin B3) is introduced to the serum to enhance the following benefits:
improves skin's elasticity with anti-wrinkle properties
enhances barrier function preventing skin from losing water content
helps discoloration and uneven skin tone
stimulates microcirculation in the dermis
Fruit acids derived from grapes, apples, lemons, oranges and sugar cane act as a natural Alpha Hydroxy Acid.
helps to stimulate both elastin and collagen production
helps to improve appearance of photo damaged skin
performs as a mild exfoliant