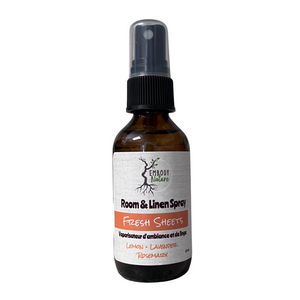 This all natural room and linen spray is the perfect way to refresh your space with the calming benefit of aromatherapy.  
Fresh Sheets is a blend of Lemon, Lavender and Rosemary Essential Oils.  
Ingredients: Aqua, Ethanol (Grain Alcohol), Citrus Limon (Lemon) Peel Oil, Lavandula officinalis (Lavender) Oil, Rosmarinus officinalis (Rosemary) Oil.
To use: gently shake the bottle, and spray allowing the mist to disperse into the air or on your linens.