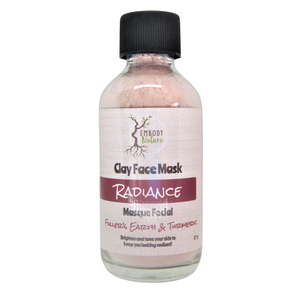 Fullers Earth Clay (also known as Multani Mitti) is said to make your skin radiant and appealing by getting rid of blemishes and acne scars. It also hydrates the skin, clears up black heads and whiteheads, and flushes out toxins. Deep cleansing with Fullers Earth Clay helps to remove impurities and dead skin cells, allowing the skin to breathe and absorb moisturizing cream more easily, leaving you feeling glowing and refreshed!
This mask can also be used as a daily cleanser for acne prone skin or to even out skin tone.
Directions for use: In a clean bowl take 1-2 tsp of mask powder and add water slowly until you get desired consistency.  Apply to clean face with clean hands or mask brush in a gentle circular motion.  Allow to dry for 10-15 minutes. Rinse with warm water and pat dry.  Apply moisturizer.  Discard any remaining hydrated mask.  Clay promotes circulation, so some minor redness may occur temporarily after you remove the mask.
Ingredients
: Fullers Earth clay, Kaolin clay, Turmeric, Australian red clay, Geranium Essential Oil

For an even more luxurious face mask you can replace the water with milk, yogurt, aloe vera juice, fruit puree or floral water.
May stain fabrics.