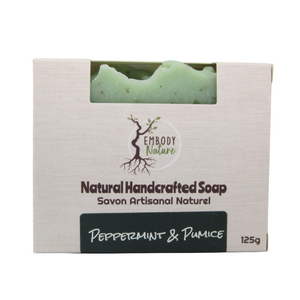 Cooling and refreshing peppermint mixed with finely ground pumice for our most exfoliating soap bar.  Perfect for anything from greasy hands to rough feet.   
Ingredients:  Sodium Olivate (Olive), Sodium Cocoate (Coconut), Aqua, Sodium Palmate (Palm),  Sodium Castorate (Castor), Sodium Shea Butterate (Shea Butter), Pumice, Mentha piperita (Peppermint) Leaf Oil, Mentha spicata (Spearmint) Leaf Oil. Mentha piperita (Peppermint) Leaves, Oxide.

Storage: To preserve the life of your soap keep it well drained, and allow to dry between use.  Click here to view our natural bamboo soap dish.

Because our soaps are handmade in small batches, the colour, size and shape may very slightly by bar.