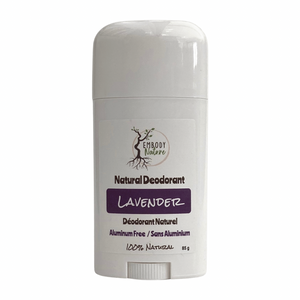 Enjoy the fresh scent of lavender all day long. 
Coconut oil, shea butter and vitamin E nourish and moisturize your skin, while arrowroot powder and baking soda help keep you dry.  This deodorant will not stain your clothes.  
Please note that this is a deodorant not an antiperspirant.  It does not contain aluminum or other harmful chemicals that clog your pores and prevent you from sweating.  Your body needs to sweat to eliminate toxins, but this does help absorb your sweat to keep you feeling dry and smelling fresh!
Ingredients: Cocos Nucifera (Coconut) oil,  Maranta Arundinacea (Arrowroot) Root Powder,  Butyrospermum Parkii (Shea Butter) Fruit,  Sodium Bicarbonate, Beeswax, Lavendula officinalis (Lavender) flower oil, Melaleuca alternifolia (tea tree) leaf oil, Tocopherol (Vitamin E)
Apply a small amount to clean and dry underarms.  Allow deodorant to absorb into skin before dressing.