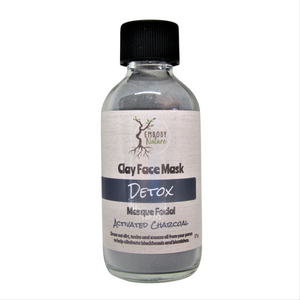 Activated charcoal has the ability to draw out dirt, toxins and excess oil from your pores. It can eliminate blackheads and reduce blemishes
Bentonite clay is packed with minerals and can help reduce inflammation, improve circulation and aid the activated charcoal in washing away toxins from your pores. 
Finished off with tea tree and lavender essential oils for their antibacterial properties to help heal blemishes, and even out skin tone.
Directions for use: In a clean bowl take 1-2 tsp of mask powder and add water slowly until you get desired consistency.  Apply to clean face with clean hands or mask brush in a gentle circular motion.  Allow to dry for 10-15 minutes.  Rinse with warm water and pat dry.  Apply moisturizer.  Discard any remaining hydrated mask.  Clay promotes circulation, so some minor redness may occur temporarily after you remove the mask.
Ingredients
: Activated charcoal, bentonite clay, kaolin clay, tea tree essential oil, lavender essential oil

For an even more luxurious face mask you can replace the water with milk, yogurt, aloe vera juice, fruit puree or floral water.
The activated charcoal may stain fabric so use an old towel just to be safe.