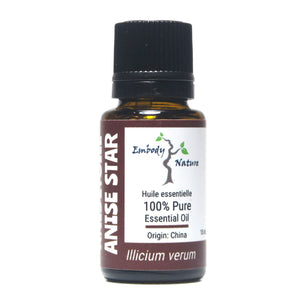 Anise Star essential oils spells just like black licorice.  Commonly diffused in the air as an air freshener.  
Botanical Name: Illicium verum
Plant Part: Seeds
Processing Method: Steam Distilled
Description / Color / Consistency: A light colorless to pale yellow liquid.
Aromatic Summary: Anise Star has a powerful and licorice-like scent, giving a strong top note.
Blends well with - orange, lavender, vanilla, cinnamon, pine, clove

Common Uses: