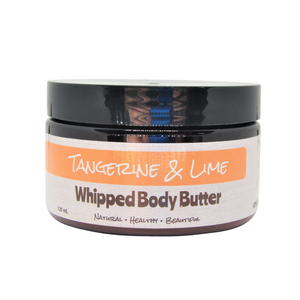 Our whipped body butter is high in vitamins A, E, D and fatty acids which makes it extremely moisturizing and nourishing for your skin.  Very helpful during those (long) cold and dry winter months. It soaks into the skin but also leaves a protective barrier to keep that moisture in.  Shea butter also aids in the skin's natural collagen production, and can also help with inflammation and reduce wrinkles.  It is soothing and helps promote healing, which makes it great for irritated or cracked skin and also fading scars and stretch marks.
Ingredients: Shea butter, coconut oil, apricot kernel oil, vitamin e, tangerine essential oil, lime essential oil, arrowroot powder.
Our butter melts from the warmth of your skin and a little goes a long way, if you use too much you will be left with a greasy feeling on your skin.  This butter is best used right after a shower to lock in moisture or before bed.
There are no preservatives in our butters so try to use a clean utensil instead of your hands to prolong the freshness of the butter.  Use within six months for optimal freshness.
As with all of our butters, it may melt at high temperatures.  Try to keep it cool.  If it does melt, it will firm up again when cooled but may not be very `whipped` anymore.  It will still work just fine, but may not apply as easily.