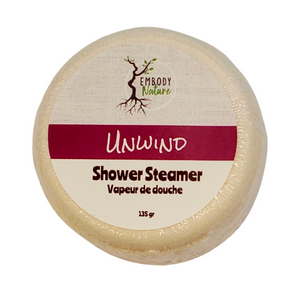 To use: Place on the floor of your shower, out of direct water.  As the steamer gets wet, it will fizz and release the essential oils into the steam from your shower.  Breathe deeply and enjoy the therapeutic benefits of the essential oils
Ingredients: Sodium bicarbonate, Citric acid, Arrowroot powder, Lavender essential oil, Cedarwood essential oil, Ylang Ylang essential oil, Orange essential oil, Vetiver essential oil, Witch Hazel, oxide.
Each steamer is individually wrapped using biodegradable packaging.
Please allow slight variances in look/colour as each handmade batch is unique but always made with love.
135 gr